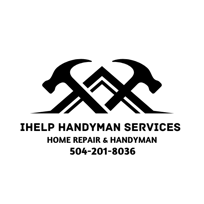 Welcome to iHelp Handyman Services
Your Trusted Partner in Home Renovation and Repair
At iHelp Handyman, we understand the importance of a home that reflects your style, meets your needs, and stands the test of time. Whether you're looking for a complete home renovation, minor repairs, or anything in between, our team of skilled professionals is here to turn your vision into reality.
Why Choose iHelp Handyman Services?
Quality Craftsmanship
Our team consists of skilled and experienced craftsmen committed to delivering high-quality workmanship on every project.
Personalized Service
We work closely with you to understand your unique needs and preferences. Your satisfaction is our priority, and we tailor our services accordingly.
Transparent Process
From the initial consultation to project completion, we maintain clear communication. You'll know what to expect at every stage of the renovation process.
Sustainable Practices
We are committed to environmentally friendly practices. Ask us about our sustainable renovation options to reduce your ecological footprint.
iHelp Handyman is a skilled professional who can provide a wide range of services to help with various household tasks. These services include general home repairs and maintenance, such as fixing leaky faucets, repairing damaged walls, and replacing broken tiles. iHelp Handyman can also assist with electrical work, such as installing light fixtures or replacing outlets. Additionally, they can handle plumbing tasks, such as fixing clogged drains or replacing faulty pipes. Other services that iHelp Handyman can provide include painting, carpentry, and furniture assembly. They can also help with installing or repairing doors and windows, as well as mounting shelves or TVs. In addition, iHelp Handyman can assist you with outdoor tasks like lawn mowing, gardening, and power washing. With versatile skill set, iHelp Handyman is an invaluable resource for any homeowner.
Our Handyman Services
Bathroom Remodels

Kitchen Backsplash

Grab Bars

Install New Doors and Hardware

Trim and Molding

Shelving and Cabinet Units

Drywall repairs

Fascia and Soffit Repairs

Tile

Handrails

Weather Stripping

Faucets

Toilets

Ceiling Fan

Garbage Disposals

Electrical Fixtures

Power Washing

Ramps

Decks

Fence Repais

Interior Residential Painting Services

Exterior Residential Painting Services

CONTACT US to bring our work to your home. We are available to residents of Metairie, New Orleans, Lake Vista, Gretna, and Marrero, Louisiana, and the nearby areas.
ane S. - Kitchen Renovation: "Working with iHelp Handyman was a game-changer for our kitchen renovation. From the initial consultation to the final reveal, their team demonstrated exceptional craftsmanship and attention to detail. Our new kitchen is not only beautiful but also highly functional. I highly recommend iHelp Handyman for any home improvement project!"

David H. - Living Room Makeover: "iHelp Handyman transformed our living spaces into a stylish and comfortable haven. Their designers understood our vision and translated it into a reality that surpassed our expectations. The craftsmanship in every detail, from the flooring to the custom-built shelves, is top-notch. We are extremely happy with the results and would recommend iHelp Handyman without hesitation."

Sarah M. - Structural Improvements: "When we needed structural improvements for our home, we turned to iHelp Handyman based on a friend's recommendation. Their team assessed and addressed the issues with efficiency and professionalism. The quality of their work is evident, and we now have peace of mind knowing our home is structurally sound. iHelp Handyman is our go-to for all home improvement needs."



Michael R. - Transparent and Reliable Service: "What sets iHelp Handyman apart is their transparent communication throughout the entire process. From the initial quote to the completion of the project, there were no surprises. The team was reliable, and their commitment to customer satisfaction was evident in every interaction. If you're looking for a trustworthy handyman service, iHelp Handyman is the one!"
Have a question? Contact us today for all your handyman service needs.